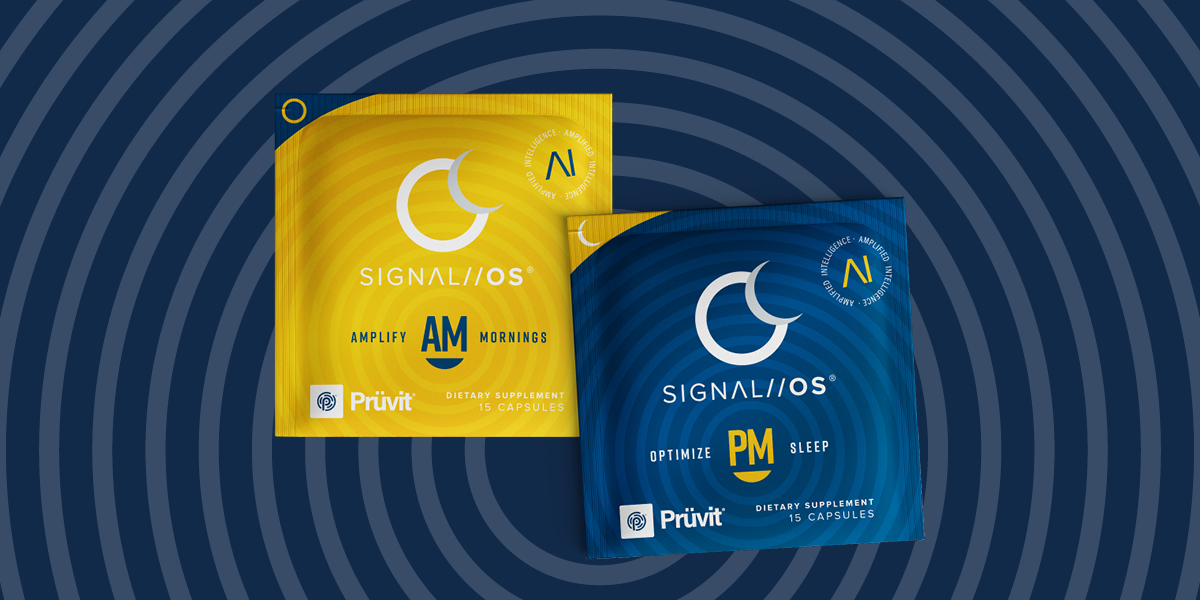 SIGNAL//OS®
Bio-technology designed to Øptimize at a cellular level. Together, SIGNAL//OS® AM and PM work to increase bioavailability, the delivery of nutrients, and enhance the benefits associated with Pure Therapeutic Ketones®.
WHEN TO USE
Take 2 SIGNAL//OS® AM capsules each morning for sustained energy and enhanced cellular function, as well as 3 SIGNAL//OS® PM capsules before bed to promote restful sleep, repair DNA, and extend telomere length, crucial for cell communication and slowing the aging process.
WHY USE IT
Repairs DNA & imprüvs cellular health†
Removes damaged cells & toxins from the body†
Øptimizes metabolic function†
Enhances focus & mental clarity†
Supports healthy immune function†
GET CREATIVE
Morning before 9am
Take 1 SIGNAL//OS® AM packet (2 capsules)
Evening after 8pm
Take 1 SIGNAL//OS® PM packet (3 capsules)

SIGNAL//OS® PM is designed to be taken at night to promote a sense of calm while still repairing DNA and cellular function as you KETO//DREAM™.

For use and distribution in the US only.
These products are not a medical treatment, medicine, or weight loss supplement. *Must be consumed with SIGNAL//OS™ for DNA repair and other therapeutic benefits associated with C-Med 100®.
C-Med 100® is a Registered Trademark of Prüvit. Protected by U.S. Patent Nos: 6,964,784; 7,579,023; 7,595,064; 7,955,626; 7,947,312; 8,372,449; And 8,372,448
†These statements have not been evaluated by the Food and Drug Administration. These products are not intended to diagnose, treat, cure or prevent any disease.
Quick Links