Who's ready to earn a BETTER trip of a lifetime?! 🇲🇽 This is your chance to hustle hard, grow your business, and land a spot in Cancun with top Prüvit leaders who are where you want to go achieving what you want to achieve! Leaderboard is LIVE here
You will be competing with Prüvers on your own playing field to earn a trip plus travel cash! Keep reading below to learn the details to take advantage of this opportunity.
HOW DO I QUALIFY?
In order to be eligible to go qualify to earn a spot on the BETTER Trip Cancun, you must reach MVP or MVP Multiplier twice within the 3 month qualification period. (Between June 1st and August 31st)*

HOW DO I EARN TOKENS?
Once you have achieved the above qualifications, you can begin earning TOKENS towards money to pay for your trip!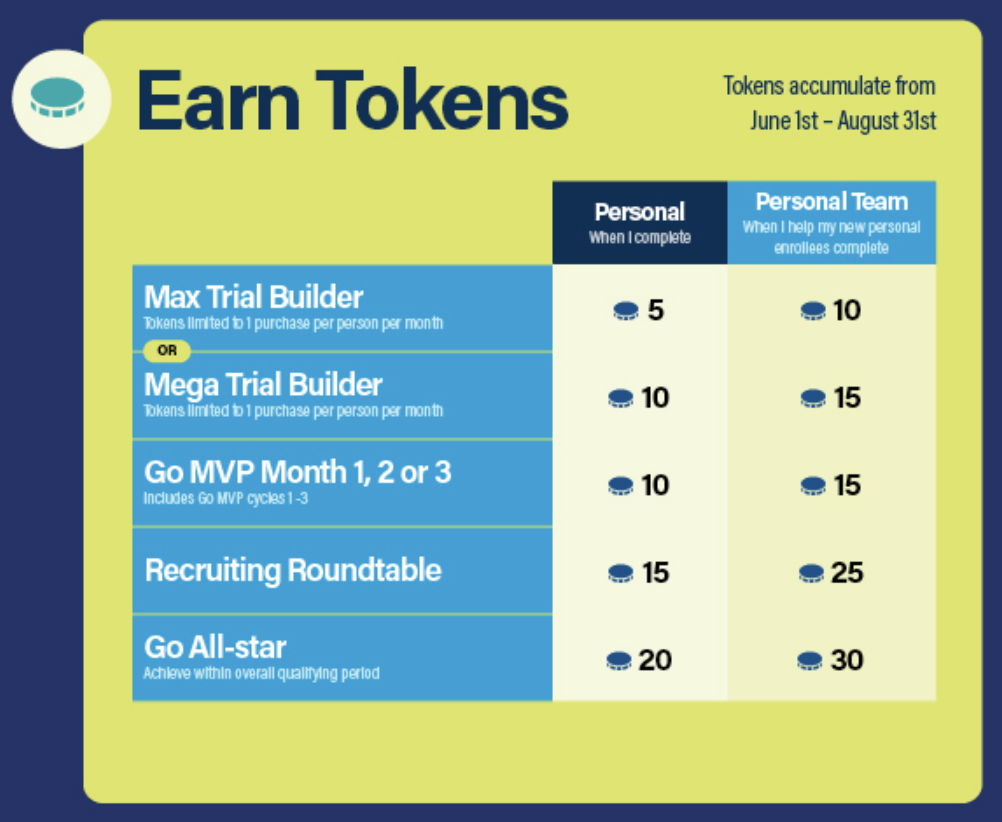 HOW MUCH CAN I EARN FOR THE TRIP?
How much you earn is in direct correlation to how hard you hustle! You can earn anywhere between $250 - $2,500 USD to go towards your flight & hotel accommodations. The Top 10 achievers from each of the leagues will earn an exclusive mastermind during the BETTER Trip with CEO, Brian Underwood and Top Prüvit Leaders.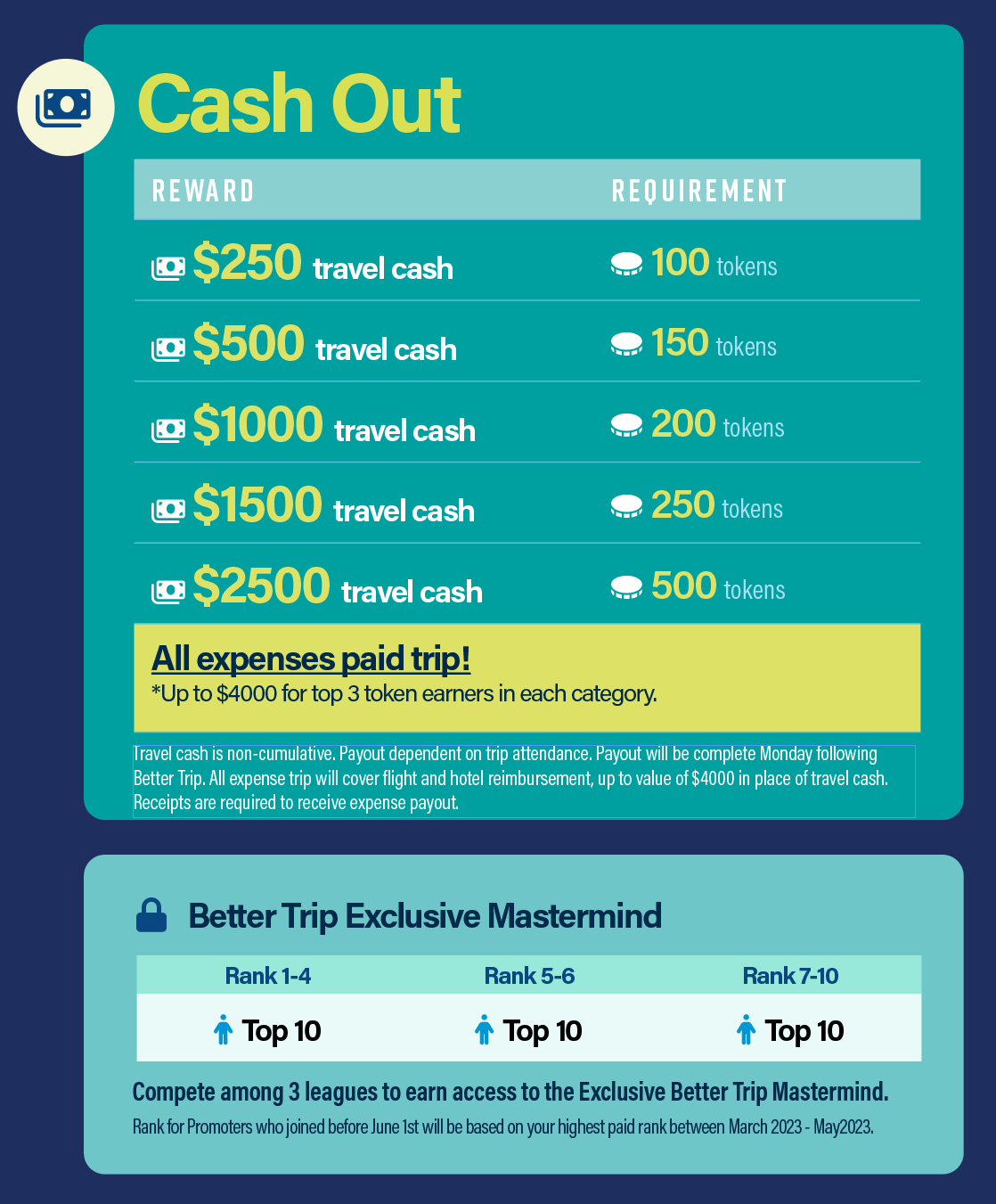 Check out what you can win!
Fine Print
🌏  Open to new and existing Prüvers worldwide.†
🏩  All hotel stays will be booked through Prüvit HQ.
🕰️  Qualify from 12:01am CT, June 1st to 11:59pm CT, August 31st
Trip Details 
Schedule (Schedule is subject to change)
October 12

Check-in begins
Welcome Reception - Light snacks
Meeting to follow Reception

October 13-14
October 15
Tips for your trip
You MUST have a passport to fly in and out of the Cancun unless you reside within Mexico.
Better Trip FAQ
What is included in the $1100 non-refundable deposit? 

This is the first of 3 payments for the Better Trip experience. 

The full amount of $3300 secures a room for you and a guest. 

What is included in the full $3300 payment? 

All inclusive trip to Xcaret Hotel & Resort in Cancun, Mexico for 2 Adults. 

This includes all food, drinks, & transportation to and from the airport.

Special Gifts exclusive to Prüvit Attendees only.

Certain restaurants, drinks, spas are not included in the all Inclusive experience - please see the hotel website if you are interested in anything outside of the standard inclusions.

Any charges or costs incurred at the hotel - outside of what is included - are the responsibility of the attendee

How many people are allowed in each room? 

A maximum of 4 people are allowed in each room. Only 3 adults are allowed in each room. This means 2 adults and 2 children or 3 adults and one child or 1 adult and 3 children or 3 adults can be included in each room. 

A third adult is an additional $300 a night. 

Children will be less but the amount has not been confirmed yet. Less than $300 

What is the additional fee to come a day early/leave a day late?

You will need to contact the hotel directly to see what the additional cost is per night outside of the October 12-16 nights. 

Can the $1100 non-refundable deposit  be purchased after September 9th. 

All deposits must be purchased by the deadline. No extensions will be granted.

What dates will the remaining two payments need to be made by? 

Payment 2 Deadline: September 30

Payment 3 Deadline: October 11

Can I book my trip outside of Prüvit? 

All qualifiers must book their trip through the Prüvit events team. 

You will not be included in any Prüvit exclusive experiences if you book outside the Prüvit events team. 

No Tokens will be reimbursed if you book your trip outside of the Prüvit events team. 

What if I want to room with a fellow Better Trip qualifier? 

That's great! Only one of you will need to purchase the $1100 ticket in the cloud office.

How you decide to split the room payment will be up to you and your roommate. 

When will confirmation details be provided for the trip? 

The Prüvit events team will provide final trip details following the 3rd payment for the Better Trip Cancun. 

What if I want to reside in my room by myself? 

You will need to pay the full $3300. The price will not be lower for single occupancy. 
Tokens FAQ
Have all Better Trip tokens been uploaded to our accounts? 

Recently several product offers have also included Better Trip Tokens. All Tokens have been uploaded for each Product offer. 

When do I receive payment for the Tokens I qualified for?

You will receive payment following your check in for the event with the Prüvit event staff.

This payment will be provided via your Cloud Wallet.

Can qualifiers combine tokens to cover the cost of their room? For example, 2 promoters going on the trip together and sharing a room.

The payment for the all inclusive Better Trip is separate from the Token reimbursement. Any tokens you have qualified for will be reimbursed via your cloud wallet following your check in with Prüvit event staff at Hotel Xcaret