Latest updates and upcoming changes on Prüvit websites including Prüvit Now, Shop Keto, Experience Keto, Drink your sample, Challenge, and Reboot Now.
---
March 19, 2021
Shopketo.com has been Øptimized with 2 new features:
More visually consistent light and dark modes (adapting to the OS and browser mode)

Sort functionality on category pages
---
March 19, 2021
🔗 Keto 101 Link Updated
The Keto 101 link on pruvitnow.com now directs users to Prüvit TV for Øptimal content and user experience.
---

January 22, 2021
🛒 Checkout Øptimizations
Today, your Challenge.com referrer websites began using an optimized checkout experience for new customers. This is the same checkout experience that rolled out to shopketo.com in December 2020.
We're always working on ways to enhance the checkout experience. This week we added the following 2 optimizations to help keep things müving during checkout:
New loading state between steps that helps prevent customers from closing or refreshing the checkout while it's loading.

New 'exit popup' if a customer tries to close the browser window or checkout popup.

January 15, 2021
🙌 SmartShip & Save
Save MØRE with SmartShip! Customers and promoters now experience a new user-friendly SmartShip flow on shopketo.com and pruvitnow.com when they purchase the Brand Builder pack with an active SmartShip!
When customers add the Brand Builder Mini or Max to their cart, a new popup offers them the SmartShip 22% discount and easily walks them through setup to save over 22% on ketones and never pay full price again.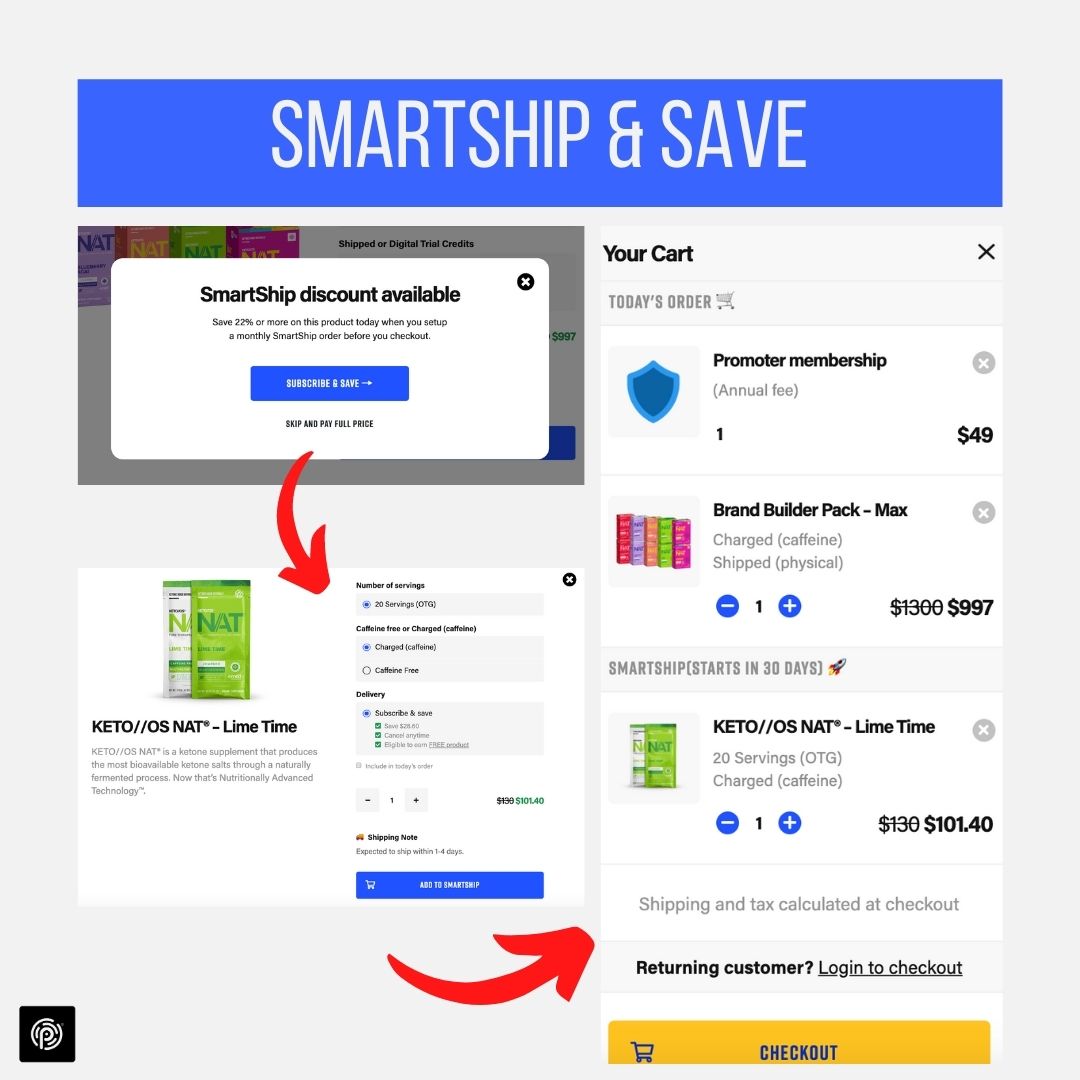 ---

December 11, 2020
🙌 Shop Keto
has been Øptimized with some EPIK new enhancements!
In addition to faster processing, check out the list of upgrades recently added for markets worldwide:
Streamlined product selection, now including Promoter Systems
New popup checkout
Optimized for mobile

Ability to share direct category links with potential customers

(eg.

referrer.shopketo.com/category/support-products

)

Access to 'Share my cart' feature (To use, create a cart on your referrer.shopketo.com site then hit 'Share My Cart' at the bottom of the Cart to send a potential customer directly to checkout with pre-selected products)
Don't take our word for it! GØ GØ GØ to shopketo.com to use these new features yourself!