HOW TO USE THE I-FAST? Please see below and check out the Transformation Guides available to download at the bottom of this page
| | |
| --- | --- |
| Variety of product flavors are included | BUY NOW |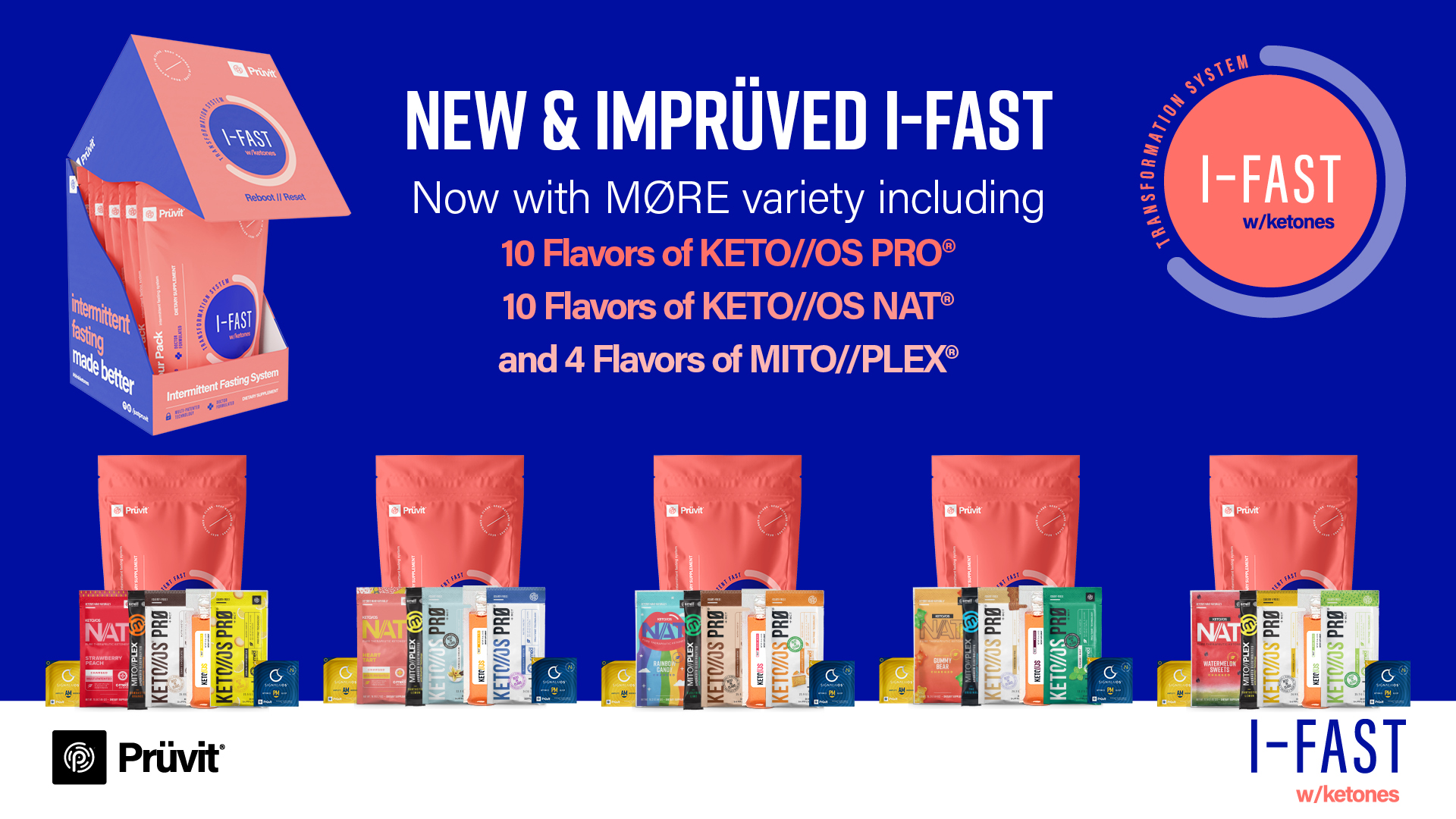 I-Fast Transformation System
Double down on BETTER with the I-Fast Transformation System. Designed to be your weekly reset in between Daily Ketones and Monthly Reboots, the Intermittent Fasting System is your secret weapon to consistent upkeep. The technology in this kit is specially crafted to work synergistically, supporting your whole system, while achieving optimum results.
WHEN TO USE
Use it weekly to support BETTER overall wellness and system maintenance, and/or when you feel your body needs a quick reset! 
WHY USE IT
Boost body's natural ketone production†
Promotes appetite & cravings control†
Encourages cellular detoxification†
Balances digestion and metabolism†
Supports healthy immune function†
DAILY ACTIONS 
Upon Waking
KETO//OS NAT® (charged)
MITO//PLEX®
SIGNAL//OS® AM packet
Noon
KETO//OS PRO®
High Protein Snack
3pm
KETO//OS NAT Ampoule (caffeine free)
6–8 pm
Low Carb Meal
1 hour Before Bed
KETO//OS PRO®
SIGNAL//OS® PM packet
WHAT'S INSIDE THE BOX
Day 1

Day 2

Day 3

Day 4

Day 5

Flavors may vary
OPTIMIZATION HACKS
Day before your I-Fast: Eat regularly. Don't binge eat, that only makes it harder on your body. Eat low-carb meal between 6–8pm.
Implement Intermittent fasting daily (6–8 hour eating window)
Consume whole foods. Avoid gluten and drink plenty of water
Prioritize protein, veggies, fruits, and healthy fats.
Can drink black coffee with no sweeteners or dairy added.
Lower carbohydrate intake.
30 minutes of Müvment most days of the week.
Get to sleep before 11pm
TRANSFORMATION GUIDES

For use and distribution in the US only.
These products are not a medical treatment, medicine, or weight loss supplement. *Must be consumed with SIGNAL//OS™ for DNA repair and other therapeutic benefits associated with C-Med 100®. 
C-Med 100® is a Registered Trademark of Prüvit. Protected by U.S. Patent Nos: 6,964,784; 7,579,023; 7,595,064; 7,955,626; 7,947,312; 8,372,449; And 8,372,448
†These statements have not been evaluated by the Food and Drug Administration. These products are not intended to diagnose, treat, cure or prevent any disease.