| | |
| --- | --- |
| VARIETY OF PRODUCT FLAVORS ARE INCLUDED | BUY NOW |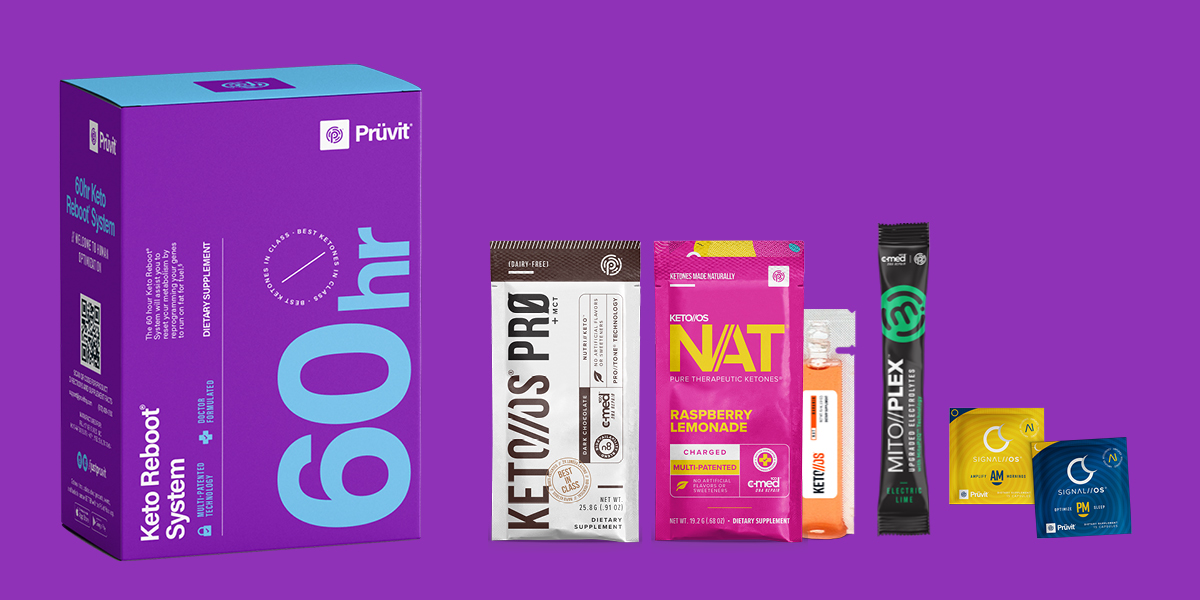 KETO REBOOT® SYSTEM
The 60 hour Keto Reboot® is designed to reset your metabolism by reprogramming your genes to run on fat for fuel. By conquering a 60 hour Keto Reboot® fast, you engage your body to use fat as an energy source while gradually shifting into Keto Adaptation.
WHEN TO USE
The Keto Reboot® is completed collectively as a community once per month, in order to provide each Rebooter with support, encouragement, resources, and coaching as they participate in the 60 hour fast. Each Keto Reboot® System comes complete with instructions and a daily schedule to follow in order to complete the fast, and maximize your benefits from the products. For self-led instructions, click here.
WHY USE IT
Resets your metabolism to burn fat for fuel†
Provides you with support and resources to stay accountable†
Promotes appetite & cravings control†
Protects & maintains lean muscle mass†
Supports cellular detoxification†
WHAT'S INSIDE THE BOX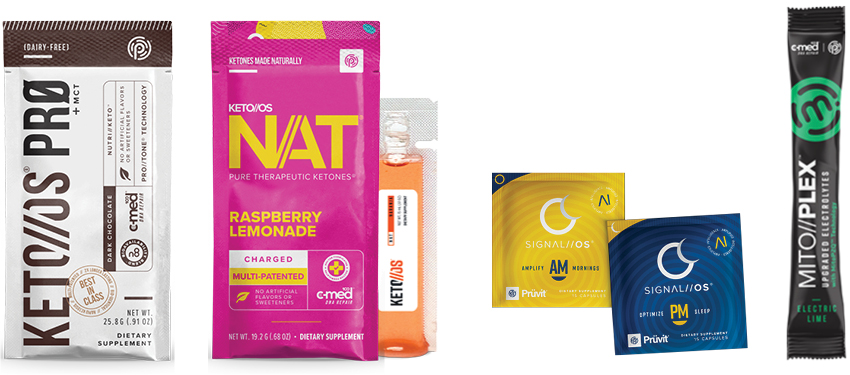 All the products you need to complete a Keto Reboot® 60 hour fast comes provided with the Reboot system.
5 servings KETO//OS PRO®
4 servings KETO//OS NAT®, 2 Charged, 2 Caffeine Free
6 servings SIGNAL//OS®, 3 AM packets, 3 PM packets
3 servings MITO//PLEX®

For use and distribution in the US only.
These products are not a medical treatment, medicine, or weight loss supplement. *Must be consumed with SIGNAL//OS™ for DNA repair and other therapeutic benefits associated with C-Med 100®.
C-Med 100® is a Registered Trademark of Prüvit. Protected by U.S. Patent Nos: 6,964,784; 7,579,023; 7,595,064; 7,955,626; 7,947,312; 8,372,449; And 8,372,448
†These statements have not been evaluated by the Food and Drug Administration. These products are not intended to diagnose, treat, cure or prevent any disease.
Quick Links