| | |
| --- | --- |
| VARIETY OF KETO//OS NAT® FLAVORS | BUY NOW |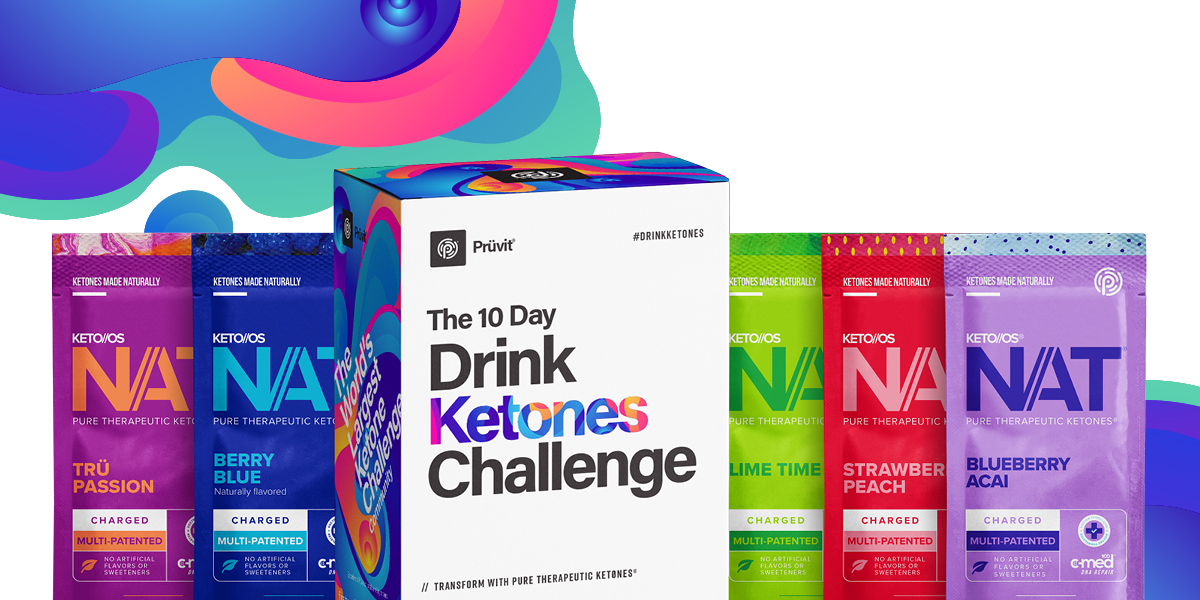 10 DAY CHALLENGE
The 10 Day Drink Ketones Challenge is not a diet. No counting macros, no obscure shopping lists, and no complicated meal plans. We are simply challenging you to drink doctor-formulated KETO//OS NAT® for 10 days and experience what it feels like to operate on a premium fuel source. This Challenge PRÜVS bio-technology is here, and now you have access to it.
WHEN TO USE
The 10 Day Drink Ketones Challenge is the ideal starting point for anyone brand new to the Prüvit community to experience the power of Pure Therapeutic Ketones® for 10 days.
WHY USE IT
FREE access to our Prüvit Coaches
FREE access to our Private Facebook Group
FREE Community accountability
FREE lifestyle hacks
Exclusive discounts on Prüvit products
WHAT'S INSIDE THE BOX
20 packets of KETO//OS NAT®
- 10 x Charged
- 10 x Caffeine Free

For use and distribution in the US only.
These products are not a medical treatment, medicine, or weight loss supplement. *Must be consumed with SIGNAL//OS™ for DNA repair and other therapeutic benefits associated with C-Med 100®.
C-Med 100® is a Registered Trademark of Prüvit. Protected by U.S. Patent Nos: 6,964,784; 7,579,023; 7,595,064; 7,955,626; 7,947,312; 8,372,449; And 8,372,448
†These statements have not been evaluated by the Food and Drug Administration. These products are not intended to diagnose, treat, cure or prevent any disease.
Quick Links